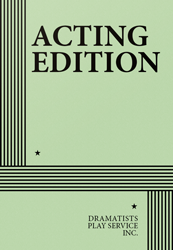 Full length, Drama
3 men, 1 woman
Total Cast: 4, Flexible Set
ISBN-13: 9780822216667

THE STORY: Valene and Coleman, two brothers living alone in their father's house after his recent death, find it impossible to exist without the most massive and violent disputes over the most mundane and innocent of topics. Only Father Welsh, the local young priest, is prepared to try to reconcile the two before their petty squabblings spiral into vicious and bloody carnage.
"Mr. McDonagh's great strength is that he combines a love of traditional story-telling with the savage ironic humour of the modern generation…in the extraordinary THE LONESOME WEST, two brothers, one of whom has killed their father, are closeted together in undying hostility like a penned-up Cain and Abel." —The Guardian (UK). "THE LONESOME WEST…represents a leap forward in ambition and achievement for McDonagh…[it] offers…in-depth examination of character and is, in the end, a moving and complicated examination of redemption that might even offer a glimmer—a wee distant glimmer—of hope." —Variety.