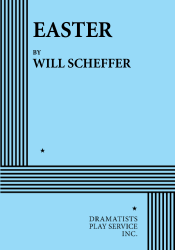 Full length, Drama
3 men, 1 woman
Total Cast: 4, Flexible Set
ISBN-13: 978-0-8222-1667-4


MIN. PERFORMANCE FEE: $105 per performance.
THE STORY: It is Good Friday. Matthew and Wilma have just set up home in Prattsville, Kansas. Wilma had been burning churches in Oklahoma forcing the couple to flee across the prairie states as felons. Matthew is hopeful he can make things right for them in Kansas with a new home and a steady job. Enter Herman, a violin-playing plumber with enormous feet and angel-like qualities, who fixes the young couple's sink, only to discover a beautiful Easter egg clogging the pipes. Wilma, who believes the Blessed Virgin is leading her to a wonderful occasion that will happen on Easter Day, takes the egg as a sign that she is pregnant. Wilma thanks Herman by washing his feet with her hair. Meanwhile, the town handyman, Zaddock Pratt, has been having religious visions of his own. He also picks up cable TV in his brain, thanks to a steel plate, and sporadically shouts out incoming news, weather reports and sitcom theme songs. Upon meeting Matthew, Zaddock recognizes him as one the of the individuals responsible for a church burning in their area. Matthew takes Zaddock hostage and reveals the story of his and Wilma's first baby who died in childbirth, ironically named Herman, and of Wilma's quest for redemption. When Matthew returns to the cabin—with Zaddock—Wilma attempts to introduce him to Herman the plumber, but Matthew can't see him. Matthew confronts Wilma with her delusion and "shoots" Herman, forcing Wilma to re-live the event that was the cause of their estrangement and of her intense pain. It is a catharsis long overdue, and now Easter Day is here and Wilma and Matthew must face an uncertain future and begin to rebuild their lives.
"EASTER, Will Scheffer's dark and poignant heartland drama…[is] a surprisingly touching story about emptiness and loss…EASTER shares with the subversive film comedies of Joel and Ethan Coen a twisted take on the loopiness of Middle America." —The New York Times.

"EASTER comes tearing through a landscape of wheat-field mysticism…[it] achieves a paradoxical fusion of the banal, and absurd, and the profound." —Village Voice.