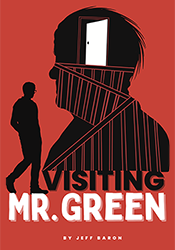 "After a pandemic that has broken us apart, the story vibrates louder than ever." —Entretenia, Mexico City.

"This piece is deliciously topical. It is universal, impactful, important. A masterpiece that will stay with you for a long time." —Le Mague, Paris.

"Jeff Baron's VISITING MR. GREEN is a great piece of theatre. His story is a cry for humanity and it finds sublime expression. ★ ★ ★ ★ ★" —London Sunday Telegraph.

"A wise, absorbing and funny play that packs quite a punch. Sparks fly." —Sunday Telegraph (Australia).

"Jeff Baron's sublime and understated play examines the exorbitant cost of intolerance." —LA Weekly.

"Baron tells his tale with a discerning freshness and originality. One of the best shows around." —Chicago Daily Herald.

"It is doubtful you are likely to encounter a play more enjoyable, more honestly funny and in the end, more moving than this delightful two-hander." —Johannesburg Citizen.