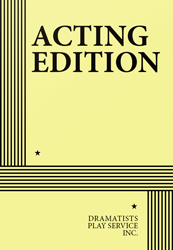 Full length, Drama
1 man, 3 women
Total Cast: 4, Flexible Set
ISBN-13: 9780822216834

THE STORY: After thirty-two years, a marriage shatters into pieces. Acclaimed journalist Gus leaves Honor, a poet, wife and mother, for Claudia, a bright young journalist not much older than his and Honor's twenty-four-year-old daughter, Sophie. In the wake of new passion stands Honor, who must come to grips with the career she has willingly sacrificed for her husband and child, the evolution of a marriage, her abandonment and eventual resurrection. Gus must face the consequences of betraying his own long-held principles about duty and justice, of leaving a secure love for the raptures of passion. Claudia confronts the darkness of her own impulses and learns that to love truly and wisely is to understand moral responsibility. In a series of intense confrontations, the wife, husband, lover and daughter negotiate the forces of passion, lust, history, responsibility and honour. This story, Greek in its examination of the fundamental human experience, is also utterly contemporary. A familiar story is told in a distinctly original way, using theatrical language that is darkly comic, highly poetic and uncompromisingly savage.
"HONOUR makes for surprisingly interesting viewing. Tight, crackling dialogue (usually played out in punchy verbal duels) captures characters unable to deal with emotions…Murray-Smith effectively places her characters in situations that strip away pretense." —Variety. "…the play's virtues are strong: a distinctive theatrical voice, passionate concerns…HONOUR might just capture a few honors of its own." —Time Out NY.