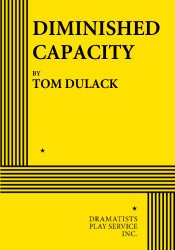 Full Length, Drama
5 men, 1 woman
Total Cast: 6, Flexible Set
ISBN-13: 978-0-8222-1686-5


MIN. PERFORMANCE FEE: $105 per performance.
THE STORY: Judge Frank Troy is a burned-out New York State Supreme Court Judge. On the morning after his father dies, he finds himself arguing with his young law student summer intern and fending off his sister on the phone who is trying to persuade him to attend his father's funeral, though he never really liked him much. Judge Troy has a particularly vicious criminal ready to come before him for sentencing, and a full calendar to clear in an upcoming session with an Assistant District Attorney and a Legal Aid defender. In the mix comes the request by an old colleague to intervene with the DA on behalf of a wealthy client who just threw his wife out of a twenty-five-story window, while in a state of "diminished capacity" after drinking. Judge Troy sympathizes, as he keeps a bottle of vodka in his desk, and uses it. Near it, he also keeps a revolver, which comes into use when the criminal he's about to sentence takes Judge Troy and his intern hostage in the Judge's chambers. The play elevates the problems of race prejudice and the imminent collapse of the criminal justice system that aggravates it. It is a play about a collision of cultures and values that breeds crime and corruption at every turn of the overwhelmed system, revealing the fault lines of urban America at the end of the twentieth century.
"Mr. Dulack is a playwright, and as his latest effort, DIMINISHED CAPACITY, illustrates, a playwright able to create literate, complex characters and involve them in a engrossing conflict and rousing action…DIMINISHED CAPACITY remains gripping right to its finish." —The New York Times.