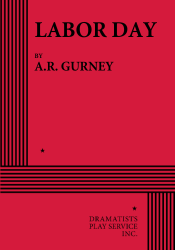 Full Length, Drama
3 men, 2 women
Total Cast: 5, Flexible Set
ISBN-13: 978-0-8222-1685-8


MIN. PERFORMANCE FEE: $105 per performance.
THE STORY: John is an established older playwright recovering from a bout with cancer. His latest work, which he views as his best, if possibly his last, has gained the interest of a major regional theatre, the Shubert Organization, and a possible Hollywood star. Dennis, the bright young director to whom John has given the play, shows up on the Labor Day holiday at the writer's house in rural Connecticut to ask for essential changes. Dennis feels the play has been adversely affected by the playwright's illness, becoming too inverted and sentimental. John's family has gathered for the holiday, and when they find out the play is primarily about them, they also criticize the enterprise. It is soon obvious that the playwright—and aging father—doesn'treally know either his family or himself. LABOR DAY reveals the age-old conflict between art and life and the hard labor it takes to reconcile the two. In the end, life wins, hands down.
"LABOR DAY…Gurney's…latest offers the Pirandellian kick of seeing the play-within-the-play that is stirring the characters to a tizzy come to life before our very eyes…This is a summer breeze of a comedy, a September song about nearing life's end that has been transposed to a major key, leaving us on a lingering note of love and blue sky. The evening is so airy that it is easy to overlook the craft with which it has been spun and the welcome mocking tone that keeps it aloft." —Newsday (NY).

"Gurney's gentle comic touch is as sure as ever here…Gurney can illuminate with graceful comic prose the deep recesses of sadness and disappointment that lie beneath layers of smooth sociability." —Variety.