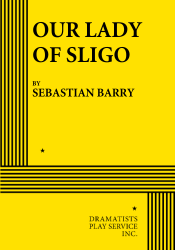 Full Length, Drama
2 men, 5 women
Total Cast: 7, Flexible Set
ISBN-13: 978-0-8222-1690-2


MIN. PERFORMANCE FEE: $105 per performance.
THE STORY: From her hospital bed in 1950's Dublin, Mai O'Hara recalls her life through morphine-induced memories and hallucinations. Dying of liver cancer caused by alcoholism, Mai reminisces on her youthful promise as a member of the Galway bourgeoisie; the death of one of her children; and of the marriage fueled by liquor, bickering, and remorse, to her husband, Jack—who visits her on occasion as does her daughter, Joanie. Jack's visits to her bedside are a testament to the mutual hatred they share and the mutual dependence they have on each other. Through it all, Mai uses her mordant wit and vanity to pull her out of painful realizations. Once the first woman in Sligo to wear trousers, Mai emerges not only the victim of a broken marriage but a victim of an Ireland in which the Catholic middle-class has been nullified by spiritual and political isolation after the Civil War.
"Barry is one of the new generation of astonishingly good young Irish dramatists who make the modish in-your-face school of English theatrical shock merchants seem almost pathetically exhibitionist and callow." —The Telegraph (UK).

"Barry…is a first rate theatrical poet: Every phrase is brushed with eloquence." —The Guardian (UK).

"Sebastian Barry's new play takes place at the barren and busy crossroads between life and death, duty and resentment, belonging and loneliness, love and hate…Barry understands how intensely aware people are, in nations with a history of oppression and exploitation, that they carry the burden of their race." —The Times (London).