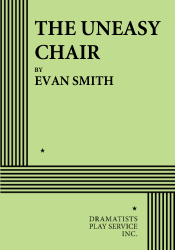 Full Length, Comedy
3 men, 2 women
Total Cast: 5, Interior
ISBN-13: 978-0-8222-1699-5


MIN. PERFORMANCE FEE: $105 per performance.
THE STORY: Somewhere in the nineteenth century, Amelia Pickles, a prim and proper spinster of modest means, agrees to let out a room in her Victorian London establishment to a retired military man, Josiah Wickett. The arrangement seems to be working out until Mr. Wickett decides to play matchmaker with Miss Pickles' prissy niece Alexandrina, and his nephew, Darlington, an officer in the cavalry. Through a gross misinterpretation, Miss Pickles believes she, not Alexandrina, is the object of Mr. Wickett's, not Darlington's, affection. Miss Pickles is convinced Mr. Wickett will soon ask for her hand in marriage. When he denies, she decides to take her boarder to a court of law for breach of promise. Mr. Wickett loses the trial. Or does he win? He doesn't wish to pay Miss Pickles her settlement and instead he opts to marry the lonely woman. Through the musings, regrets, anecdotes, and comedic bickerings between their forced duet it seems as though just maybe they were meant to be together after all.
"Mr. Smith provides…scintillating imitations of period circumlocutions and Wildean epigrams." —The New York Times.

"In the UNEASY CHAIR…Evan Smith has created a bewitching little comedy of Victorian manners…Smith manages to convert a ridiculous situation into pure comedy made entrancing by its unerringly satirical command of the pompous lifestyle of middle-class Victorians." —New York Post.