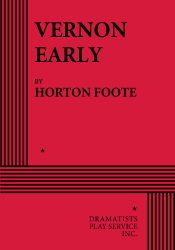 Full Length, Drama
5 men, 7 women, 1boy, 1 girl
Total Cast: 14, Flexible Set
ISBN-13: 978-0-8222-1691-9


MIN. PERFORMANCE FEE: $105 per performance.
THE STORY: VERNON EARLY revisits American life in Horton Foote's fictional town of Harrison, Texas, during the 1950s. The title character, Vernon, is a doctor, in the days when the house call was commonplace. Consumed by his work, his spirit has been eroded by the pressures of his job and the lingering depression he shares with his wife, Mildred, over the loss of their adopted child to its birth mother. Mirroring the tragic existence of the Earlys, many of Harrison's other residents are also consumed with the self-inflicted wounds of life: aging, individual isolation, love, and racial inequality. Through all of the bleakness of life there still shines a glimmer of hope reflected in the spirit of the town's sad doctor: Vernon Early.
"…Foote fans and scholars will find much resonance in a poignant and haunting drama about the sadness, depression and regret that come with growing older…like most of Foote's later plays, this is a multi-layered work with such rich characters that they continue to haunt the mind after the final curtain." —Variety.

"To pinpoint the center of Foote's genius is difficult. His characters are certainly so real that we feel immediately that we know them. But with any one of his plays we quickly become aware that our knowledge has been superficial, of the surface only, that these characters have depths we not only didn't know but never even suspected…VERNON EARLY has few equals and no superiors in its ability to engross the theatergoer." —Montgomery Advertiser (Alabama).