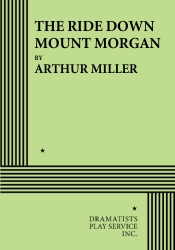 Full Length, Drama
2 men, 4 women, with 1 musician
Total Cast: 7, Flexible Set
ISBN-13: 978-0-8222-1700-8


MIN. PERFORMANCE FEE: $105 per performance.
THE STORY: Lyman's desires have allowed him to believe that loving—and marrying—two women is the kind of love that is totally truthful, and that he is being true to himself. When found out, his wives clarify the position: Only by deceiving everyone, has he found a way to his own false sense of truth. While lying in the hospital, recovering from bad injuries after a car crash, Lyman's women meet. They are shocked and devastated, as are the children who once adored Lyman, and now verge on despising him. As we follow the chain of events that lead up to this day, what is revealed is a selfish man, willing to take, while others around him are willing to give and to turn a blind's eye to suspicions. We also feel the indictment of a society that urges us to give meaning to our life by individually defining it only for ourselves. In the end, Lyman is left by those who once loved him, and he must face the loneliness he now knows is his real, true self.
"MOUNT MORGAN has an elegiac dignity…" —The New York Times.

"RIDE DOWN MOUNT MORGAN will be up there with the best of them. It is an amazingly fresh play…It is witty, beautifully written, and naughtily provocative. Eventually it should make you think more than it makes you laugh, and it makes you laugh plenty." —New York Post.

"…MOUNT MORGAN has a lot of profound and humorous insights as to why relationships are essential, yet difficult to maintain…MOUNT MORGAN features some of Miller's best writing in decades." —New York Daily News.

"Everyone is vulgar and hilarious, selfish and giving, ridiculous and quite grand in this generous play about the tragic and wondrous unknowability of the human creature." —Newsday (NY).