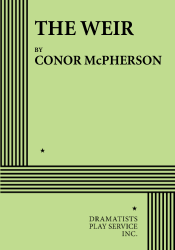 Full Length, Drama
4 men, 1 woman
Total Cast: 5, Flexible Set
ISBN-13: 978-0-8222-1706-0


MIN. PERFORMANCE FEE: $105 per performance.
THE STORY: In a bar in rural Ireland, the local men swap spooky stories in an attempt to impress a young woman from Dublin who recently moved into a nearby "haunted" house. However, the tables are soon turned when she spins a yarn of her own.
"You shed all sense of time at this beautiful and devious new play." —The New York Times.

"A spellbinder that transfixes you…No praise in fact is too high…THE WEIR offers the most exciting evening in theatrical London." —Guardian.

"Sheer theatrical magic. I have rarely been so convinced that I have just seen a modern classic. Tremendous." —London Daily Telegraph.

"With bewitching fluency allied with a gift for locating the greatest emotions in the smallest details, and a faultless ear for idiom, McPherson achieves something remarkable." —Times Literary Supplement (London).

"The writing is rich, vivid and often wonderfully funny…A distinctive talent to cherish." —London Telegraph.