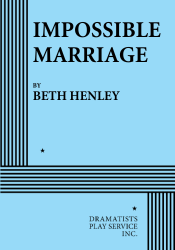 Full Length, Comedy
4 men, 3 women
Total Cast: 7, Flexible Set
ISBN-13: 978-0-8222-1697-1


MIN. PERFORMANCE FEE: $105 per performance.
THE STORY: The entire action of the play takes place in Kandall Kingsley's beautiful and mysterious garden. Kandall's youngest daughter, Pandora, is to be wed to Edvard Lunt, a worldly artist twice her age. Kandall does not think the match to be at all suitable. Flora, Pandora's older sister, who is expecting a child at any moment, plots to break off the marriage. Unexpectedly, Sidney Lunt, the groom's son, arrives with a note from his mother in which she vows to throw herself from an attic window if the marriage goes forward. Even Reverend Lawrence who has come to wed the couple has secret hopes and desperate desires. Throughout this wildly funny and moving play the characters struggle heroically with the impossibility of finding an allegiance between their civilized duties and primitive desires.
"Beth Henley is a virtuosic wordsmith." —The New York Times.

"A brisk and perky new comedy. What gives the play its savor and joy are, as usual, Henley's women—those ditsy females, unknown to natural law, who always seem to get their own way, disconcerting even when they don't know what their own way is." —New York Post.

"A cocktail at once whimsical and poignant." —New York Daily News.

"True to her intellectually quirky style, the Pulitzer Prize-winning Beth Henley has created a work that's as poetic and whimsical as it is dramatic and concrete…an intoxicating play that sends up love and marriage." —Time Out New York.

"Henley's writing echoes her characters' eccentricities. It is filled with the odd, endearing turn of phrase and the unlikely plot twist that deliver laughs and sometimes even a rueful moment or two. A blissful visit with a delightfully balmy family." —Associated Press.