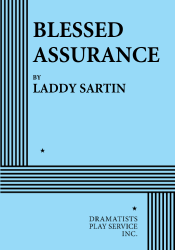 Full Length, Drama
3 men, 2 women
Total Cast: 5, Flexible Set
ISBN-13: 978-0-8222-1714-5


MIN. PERFORMANCE FEE: $105 per performance.
THE STORIES: It is the turbulent Freedom Summer of 1964. Olivia, the cook for the Whitehouse café, has shocked her small southern town by marching up the courthouse steps demanding to register to vote. Because of this she is attacked from all sides, even by those closest to her heart. Harlan, the owner of the café, who is like a son to Olivia, accuses her of listening to outside agitators and following along "like cows being led to slaughter." This damnation incites Olivia to challenge Harlan's personal beliefs, and his allegiance to her, by sitting at the counter of the café where she has worked most of her life and requesting to be served. When Harlan asks her what she thinks she's doing, she says "I think they call it a sit-in!" BLESSED ASSURANCE shows Olivia, and the people close to her, how her choice to stand up for her rights forces them all to confront the hatred, ignorance, and injustice of the town. We see the quiet heroes of this troubled time trying their best to cope with a world which is forcing them into painful decisions. This play, set entirely in the café, offers a racially mixed cast, and presents the universal message of healing through laughter, tears, and brotherly love as the characters struggle to resolve their differences. It is a story about values, the politics of the old south, friendship, and ultimately about faith and "Blessed Assurance."
"In BLESSED ASSURANCE, a play about blacks and whites working through their differences to make a small, southern corner of the world a better place, we have Charlotte playwright Laddy Sartin's best work to date…Sartin has a deft ear for the language we denizens of Dixie call English. In BLESSED ASSURANCE, he puts the language to the best use: promoting harmony." —Charlotte Observer.

"BLESSED ASSURANCE" is a powerful, thought-provoking play…and it should be required viewing for all Mississippians." —Hattiesburg American.

"This work is a masterpiece from a storyteller at his best…If you love great stories that have you constantly on the edge of your seat and your heart, you simply must see this play." —Concord (N.C.) Tribune.