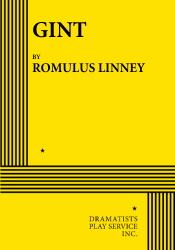 Full Length, Drama
4 men, 5 women
Total Cast: 9, Flexible Set
ISBN-13: 978-0-8222-1711-4


MIN. PERFORMANCE FEE: $105 per performance.
THE STORY: GINT unfolds like a strange dream, beginning with Pete Gint, a ragged young man in the Appalachian Mountains in 1917, who spends most of his time lying, drinking and getting into trouble. Gint is determined to become "something great grand and glorious," but he's not sure just what that is. The first act follows Gint's sexual misadventures with a married woman and a woman who turns out to be a razorback hog, but Gint's true love is Sally Vicks. At first Sally disdains Gint, finding him rough and loud, but slowly he wins her over. As they move into a humble mountain cabin, however, the hog woman shows up with Gint's bastard son. Not wanting Sally to be hurt or disgraced by "this nastiness," Gint decides to leave Appalachia and travel far away. Years pass, and the second act finds Gint at 75 and a billionaire. He has called together several other powerful billionaires for he has a dream of founding a new country, based solely on corporations. The billionaires have other plans, however. They have secretly taken over Gint's companies and he is cast out and goes back into the wilderness. Gint then begins a nightmarish journey home, battling lunatics and devils until he arrives back in the arms of Sally Vicks, who accepts him and all his past history.
GINT is Linney's retelling of Henrik Ibsen's poetic drama, Peer Gynt, now set in Appalachia.

"'GINT' is a celebration and re-creation of Peer Gynt…the play is both utterly faithful to its original and a joy in itself." —The Journal of The Ibsen Society of America.

"The play has speed and humor. Romulus Linney has been loyal, almost reverent, to Ibsen's text." —Klassekampen (Norway).

"Behold a small miracle!…This version of the story can clearly and dramatically involve today's audience, perhaps even more so than Peer Gynt." —Shepherd Express (Milwaukee).