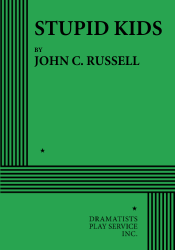 Full Length, Comedy/Drama
2 men, 2 women
Total Cast: 4, Flexible Set
ISBN-13: 978-0-8222-1698-8


MIN. PERFORMANCE FEE: $105 per performance.
THE STORY: In rapid, highly stylized, music-video-like scenes, STUPID KIDS follows four students at Joe McCarthy High School as they make their way from first through eighth period and beyond, struggling with the fears, frustrations, and longings peculiar to youth. Jim is the new guy in town, sexy, a rebel. Judy is the popular blonde cheerleader. Neechee and Kimberly are the resident outcasts, both of whom are secretly gay. Will Jim become popular? Will Judy give her virginity to Jim? Will Neechee and Kimberly confess they're gay? With his magical touch, John C. Russell turns these familiar stereotypes into deeply moving and provocative archetypes of adolescence whose jocular lingo takes on a lyricism that is both true to its source and astonishingly revelatory of the hearts and minds of contemporary youth.
"In STUPID KIDS, a peppy little satire of high school life, the playwright John C. Russell gets the opera of adolescence to a T…The stylized teenspeak of STUPID KIDS…suggests that Mr. Russell may have hidden a tape recorder under a desk in study hall somewhere and then scoured the tapes for good quotations…it is the kids' insular, ceaselessly churning world, a pre-adult world of Doritos and libidos, that the playwright seeks to lay bare." —The New York Times.

"Don't be misled by the title: STUPID KIDS couldn't be smarter. Few recent plays capture the horror and humor of hormone-stricken teenhood with the wicked specificity of John C. Russell's peer-pressure satire. Certainly adolescent emotional spasms are the stock in trade of endless sitcoms, but this Off-Broadway hit goes deeper and funnier into explaining how trivialities can loom so large that the slightest embarrassment is grounds for slashing your wrists." —USA Today.

"STUPID KIDS, which runs about ninety minutes without intermission, is…a sharp-edged, stylized whoosh of teen angst and conformity anguish. It is also very funny." —Newsday (NY).