The Cider House Rules, Part One: Here in St. Cloud's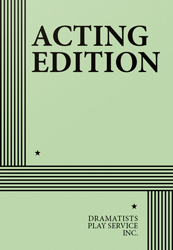 Full Length, Drama
9 men, 10 women (flexible casting)
Total Cast: 19, Flexible Set
ISBN-13: 978-0-8222-1725-1


MIN. PERFORMANCE FEE: $105 per performance.
THE STORY:
PART ONE: HERE IN ST. CLOUD'S. Homer Wells is born in St. Cloud's, Maine and is returned so many times by so many foster families that he becomes the "boy who belonged to St. Cloud's." His medical education begins when he finds out that Dr. Larch saves not only babies, but mothers, too—by performing illegal abortions when necessary. Homer becomes Larch's brilliant medical apprentice, but the arrival of the handsome Wally Worthington and his beautiful girlfriend, Candy Kendall, sets Homer's mind and heart spinning—and sends him out into the world to experience life for the first time.
The Cider House Rules, Part Two: In Other Parts of the World
Conceived by Tom Hulce, Jane Jones and Peter Parnell.

THE CIDER HOUSE RULES is a two-part stage adaptation of the John Irving novel. Spanning eight decades of American life, it tells the story of Dr. Wilbur Larch, founder of the St. Cloud's, Maine orphanage and hospital, and of the complex father-son relationship he develops with the young orphan Homer Wells. Homer's growth into adulthood begins first at St. Cloud's, and then out in the wide world, where he learns about life and love, and must ultimately decide whether to return to St. Cloud's and fulfill the destiny his "father" has always believed in for him.

"…luxurious digressions, confident pacing…an enterprise of scope and vigor…" —The New York Times.

"…The fact that I can't wait to see Part II only begins to suggest just how good it is…" —New York Daily News.