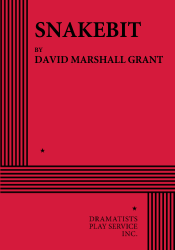 Full Length, Comedy/Drama
3 men, 1 woman
Total Cast: 4, Flexible Set
ISBN-13: 978-0-8222-1724-4


MIN. PERFORMANCE FEE: $105 per performance.
THE STORY: A study of modern friendship when put to the test, the play centers on Jonathan and his wife, Jenifer, while they visit their oldest friend, Michael, at his home in Los Angeles. Jonathan, an actor, is in L.A. auditioning for a film—his first big break at stardom—and he's dragged Jenifer with him for support. Jenifer is distant because their daughter was left at home with a relative, and she's become ill. Michael is distracted as his boyfriend has left him, and one of the children he counsels was beaten and put in a hospital where he cannot see her. At first the focus is on the universal questions we all face at one point or another, specifically self-doubt, and our selfish need for support. With the arrival of a guest, the play becomes deeper and forces us to see how ugly we can be when we look only at ourselves when we really should remember to look at others—especially those we love.
"…a rather smart and absorbing evening of water-cooler theater, the intimate sort of Off-Broadway experience that has you picking apart the recognizable characters long after the curtain calls." —The New York Times.

"Off-Broadway keeps on presenting us with compelling reasons for going to the theater. The latest is SNAKEBIT, David Marshall Grant's smart new comic drama about being thirtysomething and losing one's way in life." —New York Daily News.

"David Marshall Grant's SNAKEBIT…grips like a boa constrictor with a great sense of humor…he has an extraordinarily acute ear for the way people talk and a shrewd, handsomely workable theatricality, without a whiff of literary greasepaint…Not to be willingly missed." —New York Post.