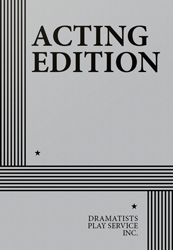 Full Length, Drama
3 men, 1 woman
Total Cast: 4, Flexible Set
ISBN-13: 978-0-8222-1738-1


MIN. PERFORMANCE FEE: $105 per performance.
THE STORY: Illiterate but likable, Bobby Reyburn is a funny young guy who loves to do impressions. He's also a member of the Aryan nation, a racist predator convicted of a horrific crime. John Brennan is educated and arrogant, a serious writer who may only be guilty of doing society a favor. As each awaits his fate, one evokes sympathy, the other derision. In vivid scenes, COYOTE ON A FENCE explores the disturbing question: Can one be innocent though proven guilty? This penetrating new drama offers no clear verdict, just utterly compelling theatre.
"Does a lousy upbringing excuse heinous crimes? Is there room for mercy and repentance within the judicial system? And if Americans really knew the inhabitants of death row, would they want to see them die? Worthy questions…a provocative subject and a literate sensibility " —Variety.

"The language is as precise as it is profane, provoking both troubling thought and the occasional cheerful laugh…[COYOTE ON A FENCE] will change you a little before it lets go of you." —Cincinnati CityBeat.

"…excellent theater in every way…" —Philadelphia City Paper.