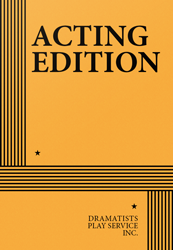 Full Length, Drama
5 men
Total Cast: 5, Flexible Set
ISBN-13: 978-0-8222-1740-4


MIN. PERFORMANCE FEE: $105 per performance.
THE STORY: A standing-room-only hit wherever it has played, this award-winning adaptation from the award-winning novel is the story of two boys, two fathers and two very different Jewish communities— "five blocks and a world apart" —in Williamsburgh, Brooklyn, in the 1940s. Set against the backdrop of WW II, the revelation of the Holocaust, and the desperate struggle of Zionism, THE CHOSEN remains not essentially political or religious but deeply human. Reuven Malter and Danny Saunders are both passionate and intelligent young men. When Reuven is injured by Danny during a heated baseball game between their rival yeshivas, a unique friendship is born. As the boys grow to manhood, they are forced to learn important lessons about each other, their fathers and themselves. This is a story of friendship, family and difficult choices that we must all make on the path to understanding, respect and reconciliation.
"THE CHOSEN tells a wonderful story…" —Philadelphia City Paper.

"…moving…examines the freedom that comes with the passage from childhood to adulthood—intellectual freedom, religious freedom, America's promise of freedom." —Philadelphia Weekly.

"Take me somewhere new; surprise me with familiarity; dig deep into character, ideology and the human heart. THE CHOSEN does…It's irresistible." —Pittsburgh Post-Gazette.

"…Potok has collaborated with…Aaron Posner, a director and writer of theatrical imagination and skill who brings…theatricality to the story without losing its intellectual content or sacrificing Potok's stunning language." —Chestnut Hill Local.