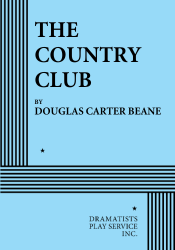 Full Length, Comedy
3 men, 4 women
Total Cast: 7, Interior
ISBN-13: 978-0-8222-1742-8


MIN. PERFORMANCE FEE: $105 per performance.
THE STORY: Soos, young, witty and charmingly neurotic, retreats from a failed marriage to her upper-class hometown. The type of WASP domain with the houses "that made Martha Stewart forget she was Polish." As party after party unfolds, the getaway weekend gives way to a year, and ultimately the rest of her life. Brittle conversation is bandied about, and Soos is reunited with her onetime boyfriend, the ever charming Zip. She also returns to her circles of old friends: the highly strung party planner Froggy; the wry and sarcastic Pooker; and the drunken good ol' boy Hutch. But cracks soon begin to show in the veneer. Zip falls in and out of an easy relationship with Soos. He starts an affair with Hutch's nouveau wife. Lives are casually destroyed, lives go on and through it all, tragedies are discussed without being mentioned. As Pooker observes between cocktail sips, "We all have our little stories and nobody brings them up. That's what's known as community spirit."
"Mr. Beane has the ear of both the natural dramatist and the inspired satirist, often bringing a transforming poetic sparkle to the conventions of WASP-speak…a dialogist of refreshing grace and bite…" —The New York Times.

"THE COUNTRY CLUB is Beane's best work, a Restoration comedy for today…" —New York Post.

"In his newest comedy, THE COUNTRY CLUB, Beane takes aim at young WASPs and their social rituals—and in turning from bees to WASPs, he has lost none of his sting…bright and effervescent…" —New York Daily News.