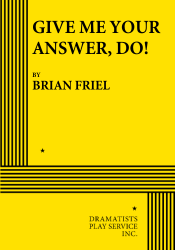 Full Length, Drama
4 men, 5 women
Total Cast: 9, Exterior
ISBN-13: 978-0-8222-1748-0


MIN. PERFORMANCE FEE: $105 per performance.
THE STORY: The play is set in the home of the impoverished Irish novelist, Tom Connolly, and his wife, Daisy, whose lives are overshadowed by their permanently hospitalized daughter. They are visited by Daisy's parents and by the successful novelist, Garret Fitzgerald, and his wife, Gráinne. The question at the heart of the play is: Will Connolly sell his manuscripts to a Texas university (as Fitzgerald has just done) and thus acquire some much-needed money. This is a story of people inextricably bound together and of the loves and hates that proximity generates.
"ANSWER, whose title is taken from a popular song of the 1890s ("Bicycle Built for Two"), is a timeless play that understands that life may be more about asking the questions than finding the answers." —New York Daily News.

"Most good new plays have, if you're lucky, one or two complex three-dimensional characters. GIVE ME YOUR ANSWER, DO! has six." —Time Out New York.

"Taken literally, it's gripping, thanks to the nasty fury of Friel's language. Taken symbolically, it's even more so, with the daughter symbolizing the stunted, corrupt artistic lives of all parties concerned." —USA Today.