An Experiment with an Air Pump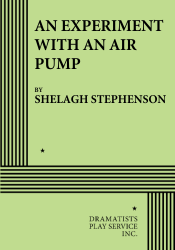 Full Length, Drama
3 men, 4 women
Total Cast: 7, Flexible Set
ISBN-13: 978-0-8222-1745-9


MIN. PERFORMANCE FEE: $105 per performance.
THE STORY: 1799—On the eve of a new century, a Northern English house buzzes with scientific experiments, furtive romance, and farcical amateur dramatics. Present Day—In a world of scientific chaos and genetic engineering, the same house reveals a dark secret buried for 200 years.
"[AN EXPERIMENT WITH AN AIR PUMP addresses] such provocative concerns as the state of medical ethics, passion versus love, the evolving role of women and the aims of science at the dawning of eras nearly 200 years apart…Ms. Stephenson uses the turns of two centuries—one heralding the birth of the Industrial Age, the other the age of biotechnology—to juxtapose ethical quandaries, suggesting that while the machinery has evolved, human impulses have changed not one whit…" —The New York Times.

"…an impressive tapestry of complex issues…" —New York Daily News.