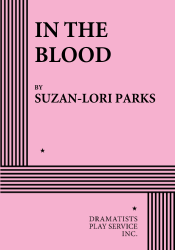 Full Length, Drama
3 men, 3 women (doubling)
Total Cast: 6, Flexible Set
ISBN-13: 978-0-8222-1756-5


MIN. PERFORMANCE FEE: $105 per performance.
THE STORY: In this modern day riff on The Scarlet Letter, Hester La Negrita, a homeless mother of five, lives with her kids on the tough streets of the inner city. Her eldest child is teaching her how to read and write, but the letter "A" is, so far, the only letter she knows. Her five kids are named Jabber, Bully, Trouble, Beauty and Baby, and the characters are played by adult actors who double as five other people in Hester's life: her ex-boyfriend, her social worker, her doctor, her best friend and her minister. While Hester's kids fill her life with joy—lovingly comical moments amid the harsh world of poverty—the adults with whom she comes into contact only hold her back. Nothing can stop the play's tragic end.
"…extraordinary new play…taut and packed…Ms. Parks' writing has grown leaner and hungrier…IN THE BLOOD is about the way we live now, and it is truly harrowing…You will leave…feeling pity and terror. And because it is a work of art, you will leave thrilled, even comforted by its mastery…" —The New York Times.

"Ms. Parks is a beautiful writer and her new play an important one…" —New York Observer.