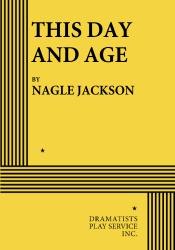 Full Length, Comedy
3 men, 3 women
Total Cast: 6, Flexible Set
ISBN-13: 978-0-8222-1765-7


MIN. PERFORMANCE FEE: $105 per performance.
THE STORY: This sophisticated comedy of modern manners deals with the "empty-nester's" greatest nightmare: the chickens coming home to roost. Affluent, newly widowed and wonderfully politically incorrect, Marjorie is enjoying life sitting by her pool, having imaginary conversations with her late husband, Jack, when both her grown-up children come calling: Ann with her British husband, Brian, and Tony with his Asian-American wife, Joy—an ex-ballet dancer. Neither sibling knows the other has the same plan: to come home and live with poor old Mom. When Marjorie's succinct reply is "No," they can't believe it. Who ever heard of anyone wanting to live alone?" asks Ann. "Anyone who's tried it" is Marjorie's reply. Not only does she not want them living there but—she has decided to sell the estate and move to New Zealand. Family chaos ensues. Sibling rivalry reaches alarming proportions; brother-in-law begins to lust after sister-in-law, and even the water in the pool turns murky. Eventually Marjorie has an epiphany—including a visitation from her deceased husband, songwriter Jack, who arrives in swimsuit and flippers, urging her to "let 'em go, let 'em all go." Her decision, which has nothing to do with New Zealand, takes everyone by surprise and gives her a new freedom and a new life. The surprise "hit" of the Oregon Shakespeare Festival's '95 season, this comedy addresses very real and current issues with crackling wit and sometimes controversial reflections on American society in "this day and age."
"…talk-show topical, but considerably more sardonic and much funnier…Jackson may be on to something big…" —San Francisco Examiner.

"…crackles with wit…" —Sacramento Bee.

"…a bright, breezy contemporary comedy which takes aim at '90s angst…demonstrates that even comedy can sting delightfully…" —Salem Statesman-Journal.

"Frothy, sweet and tart—like a slice of lemon meringue pie…That's the description that best fits…Jackson's crowd-pleaser of a play." —Ashland Gazette.