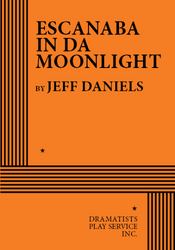 THE STORY: When the Soady clan reunites for the opening day of deer season at the family's Upper Peninsula camp, thirty-five-year-old Reuben Soady brings with him the infamous reputation of being the oldest Soady in the history of the Soadys never to bag a buck. In a hunting story to beat all hunting stories, ESCANABA IN DA MOONLIGHT spins a hilarious tale of humor, horror and heart as Reuben goes to any and all lengths to remove himself from the wrong end of the family record book.
"Challenging what anyone might consider 'legitimate' theater, Daniels breaks new theatrical ground…" —Detroit News.

"ESCANABA IN DA MOONLIGHT is a tall tale inspired by a larger than life corner of America…Daniels gives his audience plenty to laugh at plus a little something to think about." —Oakland Press.

"ESCANABA is a Super Yooper Comedy." —Ann Arbor News.

"…a flawless night of entertainment…" —Chelsea News-Review.