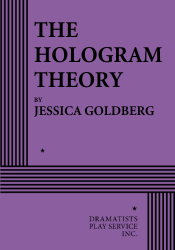 Full Length, Thriller
6 men, 4 women
Total Cast: 10, Flexible Set
ISBN-13: 978-0-8222-1776-3


MIN. PERFORMANCE FEE: $105 per performance.
THE STORY: A beautiful, young Trinidadian artist, Patsy, is awakened one night to a vision of her twin brother, Dominic, whom she hasn't seen in five years. Unbeknownst to Patsy, he has been murdered, and his restless ghost summons her to unravel the mystery of his death and what was once his life. Patsy travels to the decadent, seductive and terrifying underworld of New York City and finds herself in a foreign world—a vast landscape of club kids, cops and jaded journalists. As she learns more about the brutal world her brother once inhabited, as well his own brutality, Patsy struggles with complex feelings about her past, familial obligations and the spirit world. This epic ten-character play is written in a series of short scenes, very much like the fragmented pieces of a hologram. It is a riveting and thought-provoking thriller, a contemporary urban myth concerning moral decline and the futile search to restore order.
"Her ability to craft honest, engaging, unapologetic portraits of young adult life sets her apart as a playwright…Goldberg seems destined for a considerable measure of success…Goldberg's a skilled, intuitive creator of character." —Village Voice.

"The play wrestles with all the hard issues confronting contemporary young adults: identity, disaffection and familial duty, to name just a few…Goldberg has a good sense of the existential struggles that plague the lives of her young characters." —Newsday (NY).

"Does Jessica Golberg's play live up to its advanced billing as an epic thriller that propels us into 'the ruthless and seductive landscape of Manhattan's underground party scene'?…Indeed, Ms. Goldberg's script has all the earmarks of a thriller." —CurtainUp.