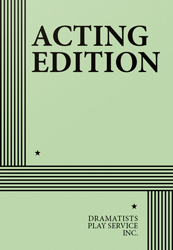 Full Length, Drama
2 men, 3 women
Total Cast: 5, Interior
ISBN-13: 978-0-8222-1777-0

THE STORY: Set in a rundown house somewhere in America, REFUGE tells the darkly funny and touching story of a young woman, Amy, forced to care for her younger brother and sister after her parents have abandoned the family and fled to Florida for a vacation from which they will never return. The siblings are in great need of care: Nat, a brain tumor survivor, is stuttering and barely able to move; and Becca is an Ecstasy-popping needy child. In a desperate attempt at connection, Amy brings home a drifter, Sam, for a one-night stand. But Sam is so lonely and lost that once he encounters this unusual family's bonds of loyalty, he sees them as his only refuge. REFUGE is a profoundly honest and original look at four young lives—lost and unsure of what's ahead, seeking a safe place but uncertain of what safety means. The only refuge in sight may be in the distinctively heartbreaking and brutally funny language of the world Ms. Goldberg's characters inhabit.
Winner of the Susan Smith Blackburn Prize. "Goldberg writes with edgy, unsentimental specificity…The characters are eccentric and real, and the dialogue snaps with humor, vulnerability and brash defensiveness. Each character is brilliantly delineated…balancing the tension between longing and protectiveness, resentment and love…A clear-eyed lament for dreams squashed in the larval stage and young lives with no horizon ahead—only a frail sense of how to survive. The play is taut and the dialogue of brief brutal sentences sadly authentic." —Village Voice. "The dialogue is fresh and true…Goldberg has a flair for the quirky non-sequitur conversation." —Houston Chronicle.