The Cider House Rules, Part Two: In Other Parts of the World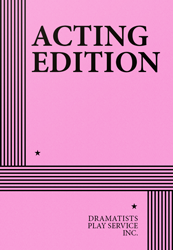 Full Length, Drama
9 men, 10 women, doubling, flexible casting
Total Cast: 19, Flexible Set
ISBN-13: 978-0-8222-1726-8


MIN. PERFORMANCE FEE: $105 per performance.
THE STORY:
PART TWO: IN OTHER PARTS OF THE WORLD. The aging Dr. Larch and his two nurses, Edna and Angela, try to keep the orphanage going while scheming to get Homer Wells to return, as Homer meets the world of the apple farm run by young Wally and finds himself drawn closer to Candy. The Second World War changes all three of their lives forever. A clandestine love affair, a new generation of lovers and a realization of what it means to truly be "of use," force Homer to finally make a choice about his heart and his home.
See also:
The Cider House Rules, Part One: Here in St. Cloud's
.
Conceived by Tom Hulce, Jane Jones and Peter Parnell. THE CIDER HOUSE RULES is a two-part stage adaptation of the John Irving novel. Spanning eight decades of American life, it tells the story of Dr. Wilbur Larch, founder of the St. Cloud's, Maine orphanage and hospital, and of the complex father-son relationship he develops with the young orphan Homer Wells. Homer's growth into adulthood begins first at St. Cloud's, and then out in the wide world, where he learns about life and love, and must ultimately decide whether to return to St. Cloud's and fulfill the destiny his "father" has always believed in for him.

"…engrossing…[interweaves] compelling incidents and characters so deftly you barely see the stitches…an odyssey that has only one major shortcoming: It comes to an end." —Seattle Times.

"…outstanding…captures the humor, the humility…of Irving's 588-page novel…" —Seattle Post-Intelligencer.