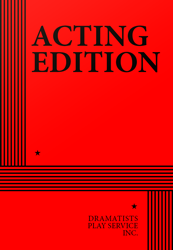 Full Length, Drama
12 men (doubling)
Total Cast: 12, Flexible Set
ISBN-13: 978-0-8222-1802-9


MIN. PERFORMANCE FEE: $105 per performance.
THE STORY: Hungry for adventure and a way to make his mark, poet and playwright Christopher Marlowe becomes a spy for a dark wing of the British government and seals his hero Sir Walter Raleigh's fate and his own. Set in the seedy underworld of Elizabethan England, this story of the meteoric rise and fall of Kit Marlowe—playwright, poet, spy and sexual outlaw—charts the ambitions of youth in a cold and unforgiving world.
"…fiendishly entertaining and wildly sensational…" —Time Out NY. "A rip-roaring, moving drama by the gifted playwright David Grimm. KIT MARLOWE puts him on the map in a big way." —Journal News. "…written with dash and danger…This is a superb young play…" —NY Post. "…exciting and pleasurable…rich material…" —Village Voice.