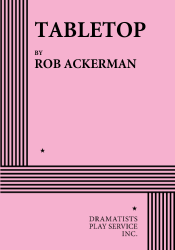 Full Length, Comedy
5 men, 1 women
Total Cast: 5, Flexible Set
ISBN-13: 978-0-8222-1797-8


MIN. PERFORMANCE FEE: $105 per performance.
THE STORY: During an afternoon in the studio of director/cameraman Marcus Gordon, a crew struggles to get two shots for a fast-food commercial about a thick, pink drink. The producer and assistant director, Andrea, is trying to save her boss' slipping reputation. She ignores the objections of property master Jeffrey and permits the creative input of Ron, an earnest entry-level employee. Ron believes in the better possibilities of advertising and engages the others in an escalating debate about how and why we sell and are sold to. His artistic approach to the craft of commerce threatens Jeffrey, infuriates Marcus, yet yields surprising results. Meanwhile, veteran gaffer Oscar and quiet assistant cameraman Dave clash in their separate efforts to tear free from this supposedly creative but ultimately oppressive workplace. Pressures build, tempers flare and egos collide as six American workers fight for their lives and livelihoods.
"The best new American play in quite awhile." —New York Post.

"Rob Ackerman's acidly funny TABLETOP is spot-on about the making of a television commercial." —New York Magazine.

"Captures, with admirable suppleness, both the easy good humor and the quicksilver contentiousness that mark longtime work relationships." —Newsday (NY).

"A fast-paced, often uproarious comedy." —New York Daily News.

"Encompasses idealism, compromise and illusion in an all too real world of mass manipulation." —The New York Times.

"Absolutely brilliant. One of the best shows I've ever seen." —Don Imus, MSNBC.