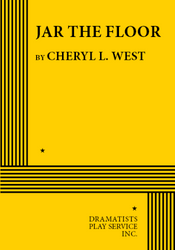 Full Length, Comedy
5 women
Total Cast: 5, Interior/Exterior
ISBN-13: 978-0-8222-1809-8


MIN. PERFORMANCE FEE: $105 per performance.
THE STORY:
A quartet of black women spanning four generations makes up this heartwarming dramatic comedy. The four, plus the white woman friend of the youngest, come together to celebrate the matriarch's ninetieth birthday. It's a wild party, one that is a lovable lunatic glance at the exhilarating challenge of growing old amidst the exasperating trials of growing up.
Included in
Broadway Book Club's Women's Voices Limited Edition Collection
"…a moving and hilarious account of a black family sparring in a Chicago suburb…" —NY Magazine.

"…heart-to-heart confrontations and surprising revelations…first-rate…" —NY Daily News.

"…unpretentious good feelings…bubble through West's loving and humorous play…" —Star-Ledger.

"…wise and funny…an immensely gratifying evening of theater." —NY Law Journal.

"…one of the wisest plays I've seen in ages…[from] a master playwright." —USA Today.

"A fresh, spirited evening—genuinely moving." —Washington Post.