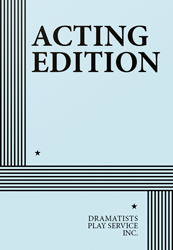 Full Length, Comedy
3 men, 2 women
Total Cast: 5, Flexible Set
ISBN-13: 978-0-8222-1806-7


FEE: $105 per performance.
THE STORY: THE ALTRUISTS revolves around a dedicated, if disorganized and demented, group of young radicals. These are the kids who protest. They protest arts funding and arms funding. They protest school cutbacks and AIDS cutbacks and welfare cutbacks. They march for gay rights and children's rights and Women Against Drunk Drivers. But their morality is put to the test one day when Sydney, a shallow, anorexic soap-opera actress, fires a gun into the hulking body of her sleeping boyfriend. Terrified, she looks to her brother, Ronald, the center of this merry band of radicals, for help. Ronald, a social worker, wants to aid his sister, but at the moment he's consumed with love. The object of his affection? A young runaway prostitute, Lance. It is Ethan, Ronald's cohort, who points out that they need Sydney—without her money they can do no good in the world. After all, "firebombs don't grow on trees." And when Sydney pressures him, revealing her vulnerability and her real affection for the first time, Ronald acquiesces. He makes the ultimate sacrifice, that of his own happiness for the greater good. And this group of altruists frames Lance, never noticing the irony as they head off to protest the unjust outcome of a trial involving a young man who resembles Lance in every way.
"Exhilarating! Exceedingly funny! The playwright wields his wit like a scalpel…written with the florid theatricality and seething emotional adrenaline that are the hallmarks of Silver's unique voice…" —Variety. "Hilarious!…Classic Silver to the core." —Time Out NY. "Hysterical…THE ALTRUISTS revels in political incorrectness. Nicky Silver is the bad-boy playwright of Off-Broadway." —NY Daily News. "Hilarious…the extravagantly amusing Nicky Silver has written one of his most consistent explosions of dark yet good-natured satire…we are carried aloft on the demented joy of [his] hyperarticulate imagination." —NY Newsday.