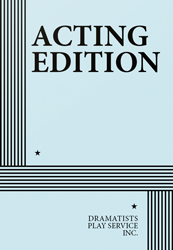 One Act, Short Play
2 men, 2 women
Total Cast: 4, Flexible Set
ISBN-13: 9780822214601

THE STORY: In this parody of THE GLASS MENAGERIE, the fading Southern belle, Amanda, tries to prepare her hyper-sensitive, hypochondriacal son, Lawrence, for "the feminine caller." Terrified of people, Lawrence plays with his collection of glass cocktail stirrers. Ginny, the feminine caller, is hard of hearing and overbearingly friendly. Brother Tom wants to go the movies, where he keeps meeting sailors who need to be put up in his room. Amanda tries to face everything with "charm and vivacity," but sometimes she just wants to hit somebody.
"If you need a break from serious drama, the place to go is Christopher Durang's silly, funny, over-the-top sketches, DURANG DURANG." —TheaterWeek. "With the help of Mr. Durang, the fine art of parody has returned to theater in a production you can sink teeth and mind into, while also laughing like an idiot. Parody of this comic verve is as much fun as the sort of marvelous party Noel Coward once sang about. I couldn't have enjoyed it more." —NY Times.