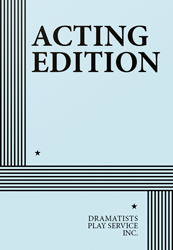 Full Length, Drama
2 men, 2 women
Total Cast: 4, Open Stage
ISBN-13: 978-0-8222-1814-2


FEE: $105 per performance.
THE STORY: By turns funny, mysterious and disturbing, THE PLAY ABOUT THE BABY concerns a young couple who have just had a baby, and the strange turn of events that transpire when they are visited by an older man and woman.
"An invaluable self-portrait of sorts from one of the few genuinely great living American dramatists…BABY rockets into that special corner of theater heaven where words shoot off like fireworks into dazzling patterns and hues." —NY Times. "An exhilarating, wicked, devastating piece of emotional terrorism." —NY Newsday. "A frequently funny and ultimately devastating battle of wills, which is unquestionably the main event of the Off-Broadway season…Albee's play is revealed here to be among his very finest." —Variety. "At times, BABY is giddily funny, reminiscent of burlesque in its high spirits and banter. Albee has fashioned an absurdist black comedy before ending with a disquieting chill." —Associated Press. "An enriching, provocative work." —NY Daily News.