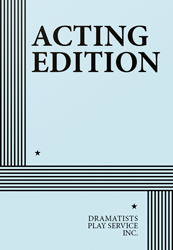 Full Length, Drama
6 men
Total Cast: 6, Interior
ISBN-13: 978-0-8222-1839-5


MIN. PERFORMANCE FEE: $105 per performance.
THE STORY: THIEF RIVER is the story of two men and their fifty-three-year relationship. Ray marries and remains closeted in the small town where they grew up. Gil moves to the city to seek his freedom. Throughout their lives they struggle with their feelings for each other in a society that doesn't know how to make room for them, while their bond—shaped by a dark and violent event in their youth—forever draws them together.
"…lively dialogue that flexibly encompasses many modes, from wry to lyrical, from erotic to spiritual…[THIEF RIVER] keeps you involved: sometimes through amusement, sometimes through empathy and always through curiosity about what comes next." —New York Magazine.

"Mr. Blessing's storytelling is not only inventive but adroit…[He] unspools the plot ingeniously…an absorbing evening." —The New York Times.

"Wistful and sweet-spirited…a quietly devastating picture of lost possibilities and love curtailed by circumstances…" —Variety.