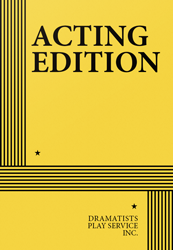 Full Length, Drama
2 men, 1 woman
Total Cast: 3, Interior
ISBN-13: 978-0-8222-1862-3

THE STORY: Jon, an aspiring filmmaker on the verge of hitting it big, hooks up for the weekend with his best friend from high school, Vince, a volunteer fireman who makes his money selling dope. Jon's new film is being shown at a festival in Lansing, Michigan, and Vince has come from Oakland to see it. Over the course of the evening, Vince finally gets Jon to admit that ten years ago he date-raped Amy Randall, a girl whom they both dated in high school—only then to reveal that he's taped their entire conversation. And not only that, he's invited Amy to have dinner with them that night. Beneath its suspenseful, high-stakes surface, TAPE examines questions of motive, memory, truth and perception.
"…TAPE is terrific…Belber has expert fun torturing his characters with the things that never get said, yet the language is uniquely telling and the underlying grief shines through." —The New Yorker. "Fascinating and entertaining…a terrific play…Real talk, real characters, real situations—a real play." —NY Post. "…when it comes to reminding us just why we leave our homes on a cold winter's night and seek the special joys of a live theatrical performance, playwright Stephen Belber has the big guys beat…" —Wall Street Journal. "TAPE is a sordid and beautiful take on human relationships." —Show Business Weekly.