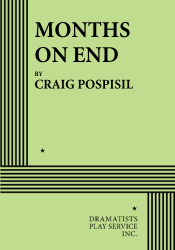 THE STORY: In a series of comic scenes—one for each month of the year—we follow the intertwined worlds of a circle of friends and family whose lives are poised between happiness and heartbreak. The circle centers around Phoebe and Ben, who are engaged to be married. But Phoebe worries her Beatles-obsessed fiancé may not be the right man for her, and Ben's no help planning the wedding because he's distracted by a friend's illness. Even so, Elaine is jealous of her friends' relationship, especially since none of hers last more than five dates. She's ready to give up on love until she meets the eternally optimistic Walter, whose only flaw may be that he's married. Walter's gruff brother, Nick, is single, but when he proposes to Paige on a beach her answer is to scream and drop the engagement ring in the sand. Heidi, Phoebe's post-feminist sister, delivers a comic gem of a commencement address in May that starts as a tribute to the graduates' parents but degenerates into a hysterical tirade against them. Come June, Phoebe's wedding day meltdown isn't helped by her mother Gwen's complaints, or her father, Chris, who, trying to calm her fears, tells Phoebe to "Pretend you're in an airplane that's crashing…" Walter and Nick and their friend Tony battle hilariously in July over what they find sexy about women (but it's not what you think). As the year draws to a close, a fight over The Beatles threatens to break up Ben and Phoebe, but the death of Ben's friend bonds them more strongly together. The funny and touching December scene finds Walter and Nick still as different as siblings can be but finally united by their failed relationships…and the New York Yankees. The diverse scenes and characters in this winning play come together to create a delightful theatrical experience encompassing a range of emotions from happiness to sorrow and everything in between.
"MONTHS ON END [is] a triumph. I can't say I've seen a more refined exercise in ensemble theater than Craig Pospisil's MONTHS ON END. The multiple symmetry of this dazzlingly charming show about relationships is a triumph in itself: twelve scenes spanning twelve months, ten actors intertwining as friends and/or relatives in a show that's a marvel of thespian equality…Pospisil's play…could in fact be broken down into twelve one-acts, all of which could stand on their own. And yet these twelve vignettes all form crucial pieces in the eternal puzzle known as human relationships, an area in which the playwright displays an assured knowledge that spans deep sorrow to unbounded happiness." —Ann Arbor News.

"[There are] dozens of hilarious moments in writer Craig Pospisil's MONTHS ON END." —City Pulse.

"MONTHS ON END rings with emotional truth, humor…[An] endearing contemplation on love…entertaining and satisfying." —Oakland Press.