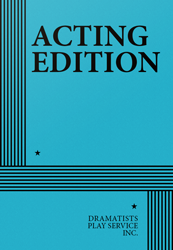 THE STORY: Less than two weeks after the September 11th attacks, New Yorkers are still in shock. One of them, an editor named Joan, receives an unexpected phone call on behalf of Nick, a fire captain who has lost most of his men in the attack. He's looking for a writer to help him with the eulogies he must present at their memorial services. Nick and Joan spend a long afternoon together, recalling the fallen men through recounting their virtues and their foibles, and fashioning the stories into memorials of words. In the process, Nick and Joan discover the possibilities of friendship in each other and their shared love for the unconquerable spirit of the city. As they make their way through the emotional landscape of grief, they draw on humor, tango, the appreciation of craft in all its forms—and the enduring bonds of common humanity. THE GUYS is based on a true story.

NOTE FROM AUTHOR: On page 19, some baseball fans suggest Mariano Rivera would be a more logical choice.
"[A] straight-from-the-gut beautifully written two-hander…laughter is heard as often as sobs." —CurtainUp.com. "The kind of quiet hybrid that the situation and the times—an era of a million pithy sound bites, booming rhetoric, and the numbing repetition of the CNN loop that followed the attacks—seemed to demand…A small jewel of a play." —Chicago Tribune. "Ms. Nelson's play…gives credible and powerful voice to a very specific kind of pain…perhaps the keenest message to emerge from THE GUYS is the assertion that writers—and actors—have a serious role to play in a grieving society." —NY Times. "A generous, sad, touching play about the braveries of grief." NY Post. "A courageous and riveting…play that tackles the horror of September 11th with an intimacy that's both unsettling and healing." —Christian Science Monitor.