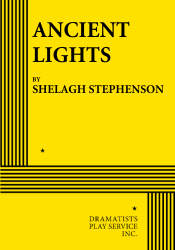 Full Length, Drama
2 men, 4 women
Total Cast: 6, Flexible Set
ISBN-13: 978-0-8222-1918-7


MIN. PERFORMANCE FEE: $105 per performance.
THE STORY: Hollywood actor Tom Cavallero and girlfriend Iona are spending Christmas in the English countryside with his oldest friends, Bea and Kitty. Bea's new lover, Tad, would rather hole up quietly with Pathology for Beginners. Her daughter, Joni, would rather be in London. And how can anyone relax whilst Iona's filming their every move? She's making a documentary about "the real Tom." But who is that exactly? Tom, Kitty and Bea have known each other since they were young and unformed. But who have they become, and what price have they paid?
"…a cracking, grown-up play…with a light touch that cuts surprisingly deep." —The Telegraph (UK).

"An acute and funny writer, Stephenson carves out a welcome territory that is distinctive, contemporary and theatrical." —The Independent (UK).