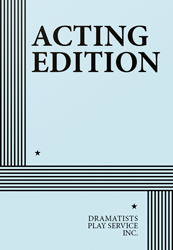 Full Length, Comedy/Drama
3 men
Total Cast: 3, Interiors
ISBN-13: 978-0-8222-1935-4


FEE: $105 per performance.
THE STORY: In a London psychiatric hospital, an enigmatic patient claims to be the son of an African dictator—a story that becomes unnervingly plausible. BLUE/ORANGE is an incendiary tale of race, madness and a Darwinian power struggle at the heart of a dying National Health Service.
Winner of the Olivier Award for Best New Play. "…a ferocious comedy [with] brawny characters, not to mention a conflict that justifies some high-powered verbal brutality." —NY Times. "I came out of Joe Penhall's new play in a state of hot, black excitement: emotional, intellectual, moral excitement. How many plays can claim that much?" —Sunday Times (London). "Exuberant…Penhall has the gift of making serious points in a comic manner and of conveying moral indignation without preaching…Stinging satire." —Guardian (London). "Provocative, blackly funny…[and] taut with thought-provoking ambiguity." —Independent (London).