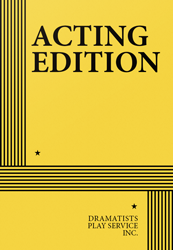 Full Length, Romance
5 men, 2 women (doubling)
Total Cast: 7, Flexible Set
ISBN-13: 978-0-8222-1929-3

THE STORY: Once upon a time there was a country that existed only for one day, and a castaway named Adam who traveled the world over in search of this lost kingdom. Reared from infancy on an uncharted island, Adam has preserved himself from despair by imagining that a heroic destiny awaits him in the world beyond. Rescued by a disheveled trio of sailors, Adam comes to believe that he is the lost prince of the fabled country of Gildoray. But nobody else in the world believes that Gildoray even exists. Despite all this, Adam risks everything to reclaim his throne. Before his quest is over he will have battled pirates, warriors and gryphons; he will have weathered typhoons and plagues; and he will have both won and lost his princess and his children. THE WORLD OVER is a decidedly modern romance about a man in search of his home.
"…a whopper of a tale, an epic fantasy with all the rollicking twists and turns of a wild Shakespearean romance such as Cymbeline." —NY Newsday. "THE WORLD OVER is exceeding wise: a profound, insightful, thought-provoking examination of the most fundamental aspects of our humanity." —NYTheatre.com. "Playwright Keith Bunin…an original voice and a strong command of stagecraft…[THE WORLD OVER] is composed with sweep and considerable beauty…" —Star Ledger. "Bunin draws on disparate influences from the high end of the bookshelf—from the Bible to The Odyssey to Shakespeare's late romances." —Variety. "…clever…motifs from a rich array of fantasy literature…" —Time Out NY.