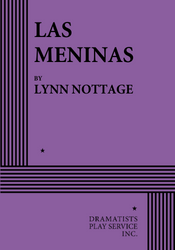 THE STORY: LAS MENINAS is the true story of the illicit romance between Queen Marie-Therese (wife of Louis XIV) and her African servant, Nabo, a dwarf from Dahomey, and the hilarious consequences that scandalized the French court.
"Lynn Nottage shines a revealing, fiercely imaginative beam on the French court in LAS MENINAS, her play about the illicit love affair between African servant Nabo Sensugali and Louis XIV's wife, Queen Marie-Therese…LAS MENINAS is an irreverent reclamation of a fascinating piece of history." —San Jose Mercury News.

"The play is a mix of politics and really good royal dish. 'French Queen Has Black Dwarf's Baby' would be a tabloid cover for the ages: Not even Fergie ever managed a scandal of such eloquent proportions." —San Francisco Weekly.