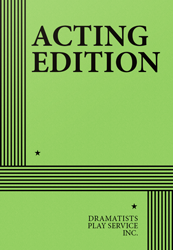 Full Length, Comedy/Drama
7 men, 1 woman
Total Cast: 8, Flexible Set
ISBN-13: 9780822219347

THE STORY: On a lonely road on the island of Inishmore, someone killed an Irish Liberation Army enforcer's cat. He'll want to know who when he gets back from a stint of torture and chip-shop bombing in Northern Ireland. He loves his cat more than life itself, and someone is going to pay.
"…cunningly constructed, deeply and intensely felt, bitterly blood curdling and breathtakingly funny." —Sunday Times (London). "McDonagh weaves the strands of his plot together with superb panache and his dialogue is a joy, full of debunking humor that reveals the terrorists in their absurdly dim true colors." —Daily Telegraph (London). "You can't imagine how many dramatic developments, how much horror, how much comedy, McDonagh spins as a consequence of [a] cat's death…his blackest, funniest, most violent, most absurd play to date." —Financial Times (London). "The plot is so sublime, the script so witty and the twist at the end so clever that I was won over…" —The Stage (London).