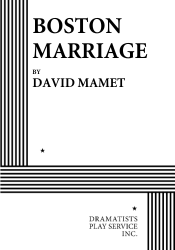 THE STORY: Anna and Claire are two bantering, scheming "women of fashion" who have long lived together on the fringes of upper-class society. Anna has just become the mistress of a wealthy man, from whom she has received an enormous emerald and an income to match. Claire, meanwhile, is infatuated with a respectable young lady and wants to enlist the jealous Anna's help for an assignation. As the two women exchange barbs and take turns taunting Anna's hapless Scottish parlor maid, Claire's young inamorata suddenly appears, setting off a crisis that puts both the valuable emerald and the women's futures at risk. To this wickedly funny comedy, Mamet brings his trademark tart dialogue and impeccable plotting, spiced with Wildean wit.
"Brilliant…One of Mamet's most satisfying and accomplished plays and one of the funniest American comedies in years." —New York Post.

"Devastatingly funny…exceptionally clever…demonstrates anew [Mamet's] technical virtuosity and flexibility." —The New York Times.

"Wickedly, wittily entertaining…What makes the play…such brilliant fun is its marriage of glinting period artifice and contemporary frankness." —Boston Phoenix.

"[Mamet's characters] are at each other's throats with a wit akin to characters out of Wilde and a vengeance not unlike those from Pinter, Edward Albee, or Mamet himself." —Boston Globe.