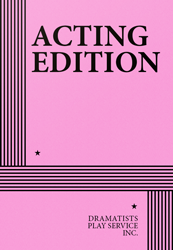 Full Length, Drama
5 men, 2 women
Total Cast: 7, Interior/Exterior
ISBN-13: 9780822219408

THE STORY: When his lover, literary adversary and a sympathetic colleague gather at Dave Ardith's upstate retreat for a midsummer barbecue, the acclaimed author is forced to confront his demons—the novel he is loath to finish and the life he is loath to resume. Six years later, Dave's young protégé, Scott—present on that fateful night—returns to the house, soul-searching and plagued by a mysterious regret.
"Hope-inspiring…Still in his mid-20s, Mr. Shinn is a welcome paradox among up-and-coming American dramatists: creator of carefully constructed, dialogue-heavy works that nonetheless resonate with a sense of the unspoken…WHAT DIDN'T HAPPEN is about the distance between people, and the ways in which even friends, spouses and lovers are ultimately unknowable to one another…a playwright to cherish." —NY Times. "All [Shinn's] characters have surprising moments of humanity that break stereotypes. Shinn just cannot write a fake or untelling word…a delightful tale." —NY Post.