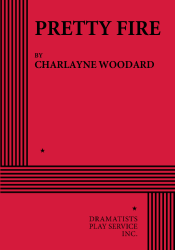 Full Length, Comedy/Drama
1 woman (or flexible casting)
Total Cast: 1, Open Stage
ISBN-13: 978-0-8222-1942-2


MIN. PERFORMANCE FEE: $105 per performance.
THE STORY: The stage is bare except for a wooden loveseat and a young African-American woman. Then the lyrical, lifting words of Charlayne Woodard begin weaving stories of two young sisters in the small world of Albany, New York; of Ku Klux Klan riders burning a cross—the ironic "pretty fire" of the title—in the hilltop black town of Rosignol Hill, Georgia; of three generations of family love, struggle and triumph. And suddenly that empty stage becomes crowded with the authentic, mesmerizing experience of contemporary African-American life. PRETTY FIRE is an enthralling celebration of life. Filled with earthy humor, it takes readers on a universal journey through a world in which the family bond is as strong as steel.
"Exhilarating and unflaggingly entertaining…One of the most positive pictures of the black-American experience I've ever seen on stage…Rapturous tales…" —The New York Times.

"Life-affirming…One of the most moving and exhilarating evenings this year. We sometimes forget that theater at its most profound is a celebration of life. All by herself, Woodard accomplishes this with far greater ease than many plays that fill their stages with seeming multitudes." —New York Daily News.

"A born winner…The extraordinarily gifted Charlayne Woodard offers five vignettes tracing her life from a premature birth to a joyous maturity at eleven years old. She is a professional charmer, playful, amusing, light-touched, occasionally ironic. Woodard holds us beautifully and gently. We are enchanted and moved." —New York Post.

"Inspiring, illuminating and engrossing." —Newsday (NY).

"A remarkable tour de force…A remarkable feat of writing and performing—a rare autobiographical tour de force so lustrous it seems to reinvent the whole solo-acting genre." —Los Angeles Times.