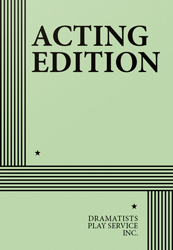 Full Length, Romantic Comedy
3 men, 3 women (doubling)
Total Cast: 6, Open Stage
ISBN-13: 978-0-8222-1952-1

THE STORY: In this comedy, which starred Cynthia Nixon and Evan Handler Off-Broadway, Lily juggles the big issues: turning forty, artificial insemination and the elusive scientific Theory of Everything. Lily's world includes an Icelandic comedian, her wisecracking best friend, a cat-loving physicist, her no-longer-suicidal father and an ex-boyfriend who carries around a chair.
"Applies the elusive rules of string theory to the conundrums of one woman's love life. Think Sex and the City meets Copenhagen." —NY Times . "A funny offbeat and touching look at relationships…an appealing romantic comedy populated by oddball characters." —NY Daily News. "Where kooky, zany, and madcap meet…whimsically winsome." —NY Magazine. "STRING FEVER will have audience members happily stringing along." —TheaterMania.com. "Reingold's language is surprising, inventive, and unique." —NYTheatre.com. "…[a] whimsical comic voice." —Time Out NY.