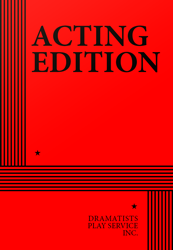 Full Length, Comedy
3 men, 2 women
Total Cast: 5, Flexible Set
ISBN-13: 9780822219569

THE STORY: A comedy about ethnic identity and the eternal American search for "roots." Jasiu (thirtyish) is a Polish-American who has been taught not to value his own roots, so he decides to make his own roots, reinventing himself first as a sort of non-ethnic everyman, then as an "Irishman." Jasiu's adventures—alternately zany and heartbreaking—take him through a job interview with an Ur-Wasp; to an attempt to become a Catholic priest; to a flower shop where he can't get service because he is weirdly invisible; to a doomed love affair with a Jewish woman; to a wacky Irish travel agency where he has to prove that he is Irish before he can buy a ticket; and to a doctor more interested in ethnic pain than in healing. Jasiu is also bedeviled by a reappearing Polish relative and has to face off with the ghost of a dead Polish patriot. In the end, by trying to get away from his ethnic background, Jasiu finds out who he is and what it means to be "a Pole."
"…furiously funny [and] endearingly foolish." —NY Magazine. "…a funny yet thoughtful examination of the Polishness and Jewishness and Irishness that makes us at once alike and different." —CurtainUp.