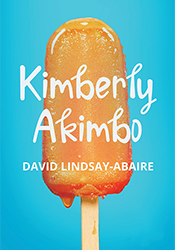 Full Length, Comedy
2 men, 3 women
Total Cast: 5, Flexible Set
ISBN-13: 978-0-8222-4357-1


MIN. PERFORMANCE FEE: $105 per performance.
THE STORY: Set in the wilds of suburban New Jersey, KIMBERLY AKIMBO is a hilarious and heartrending play about a teenager with a rare condition causing her body to age faster than it should. When she and her family flee Secaucus under dubious circumstances, Kimberly is forced to reevaluate her life while contending with a hypochondriac mother, a rarely sober father, a scam-artist aunt, her own mortality and, most terrifying of all, the possibility of first love.
"The Comedy of the Year. A haunting and hilarious new play. Mr. Lindsay-Abaire is an expert at tweaking, skewing and finally inverting established formulas. His plays tend to slide right out of predetermined pigeonholes. KIMBERLY AKIMBO is at once a shrewd satire, a black comedy and a heartbreaking study of how time wounds everyone." —The New York Times.

"A zany, disturbing and strangely affecting comedy. It's a bit of youthful happiness unlike any other." —Associated Press.

"I was bowled over by the singular theatricality of David Lindsay-Abaire's KIMBERLY AKIMBO. The way this harrowing and hilarious work continuously shifts from satire to black comedy to realism could never work anywhere else…theatre at its most original." —NY 1.

"A wacky, touching and totally charming dark comedy that gives a whole new meaning to 'coming of age story.'" —New York Daily News.

"A breezy, foulmouthed, fleet-footed, warmhearted comedy. There have been many dark comedies about dysfunctional families, but this is one of the funniest." —Los Angeles Times.