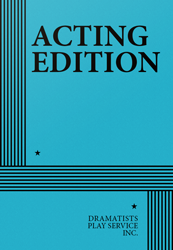 Full Length, Comedy
4 men, 9 women
Total Cast: 13, Flexible Set
ISBN-13: 9780822223986

THE STORY: Matriarch Stella Gordon is determined not to divide her 100-year-old Texas estate, despite her family's declining wealth and the looming financial crisis. But her three children have another plan. Old resentments and sibling rivalries surface as the members of this hilariously dysfunctional family go head to head to see who might claim the biggest piece of the pie in DIVIDING THE ESTATE.
"DIVIDING THE ESTATE goes for laughs and succeeds, and at the same time comments on more sweeping notions of avarice, entitlement and carpetbagging karma." —NY Daily News. "Horton Foote's DIVIDING THE ESTATE—about a rapacious Southern family tangling over finances—contains echoes of Cat on a Hot Tin Roof and The Little Foxes, but its elegiac tone and rich humor clearly reflect the spirit of its playwright." —NY Post. "DIVIDING THE ESTATE will draw you into its drawing room and the shadows beyond with the theatrical equivalent of a page-turner, capturing your undivided attention as you hang on its teasing turmoil in guiltlessly glad complicity." —Bloomberg.com.